Main information: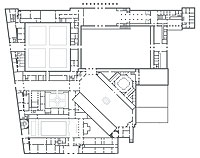 Pictures in metal – masterpieces of bronze art
With over forty bronze sculptures from the late 16th and early 17th centuries, the Residence Museum is presenting one of the richest collections of European bronze art from the Mannerism and early Baroque eras. Today the bronze gods and heroes that once decorated the gardens, fountains and façades of the Residence have been replaced with copies. Since 2015 the precious originals have been displayed in the early Baroque rooms on the ground floor of the building on the north-west side of the Imperial Courtyard.
Within a few years, the sculptors Hubert Gerhard and Carlo di Cesare del Palagio, who had trained in Florence, established the court of Duke Wilhelm V (r. 1579-1597) as a centre for bronze sculptures of outstanding quality, which continued to flourish at the hands of local artists such as Hans Krumpper and Georg Petel under Wilhelm's son Maximilian I (r. 1597-1651).
At the time they were created, these expensive sculptures, which were very complicated to produce, were an effective symbol of princely prestige. The bronzes in the Residence Museum such as the demigod Perseus, the figures of the Wittelsbach Fountain and the so-called Tellus Bavarica were powerful illustrations of the Wittelsbachs' ambitions in the age of the Counter-Reformation and on the eve of the Thirty Years' War. They still evoke one of the most formative epochs of Bavarian history.