Main information:
Things to know about your visit
Current information
Unfortunately, the collections of miniature paintings and reliquaries cannot be visited at present.
Information for people with a handicap
Here you will find some information to prepare your visit to the Munich Residence if your mobility is restricted or if you are visually or hearing impaired.
Short film
Through spectacular aerial shots and impressive interior views, you get exclusive insights behind the walls of the Munich Residence and a great view of otherwise hidden details:
to the film "Die Residenz München" on YouTube
Information for groups
At the Munich Residence no reservation is required for groups. The maximum size of groups is limited to 25 persons. Please note that groups of more than 25 persons must be shared and that each part of the group must have its own tour guide.
Wi-Fi
Free Wi-Fi is available in parts of the Munich Residence, including the Antiquarium, the Court Church of All Saints, the Imperial Hall, the Max Joseph Haal and the Imperial Courtyard.
Ground plan of the Munich Residence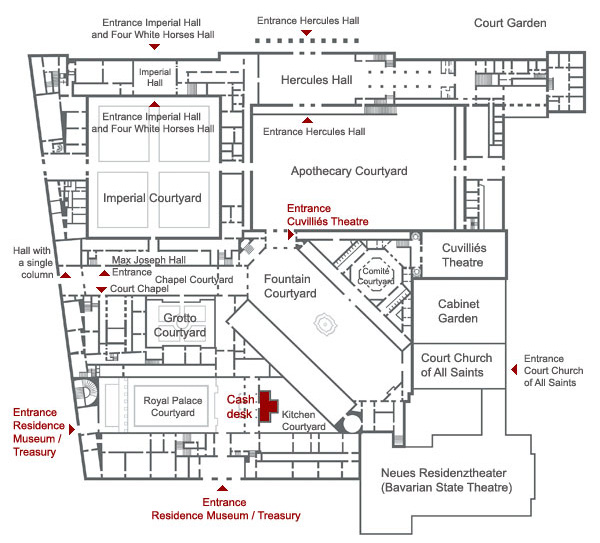 Photographs and videos
Photography and video recording for personal use only (i.e. no publication of any kind) is permitted in the Munich Residence, but without flash or tripod. We regret that wedding shootings inside are not possible. Special permission is required – and there may also be a charge – for all photography and films taken for further use, as well as for the flying of drones / multicopters.
We also provide you with image and film material that you may use free of charge on your own website under certain conditions; click here to download image material or download footage.
Bulky objects
No large bags (from 35 x 30 x 12 cm), rucksacks or bulky objects may be taken into the Residence. These may be left at the free supervised cloakroom.
Food and drink
No food and drink may be taken into the museum area, with the exception of drinks in plastic bottles of up to 0.5 l. There is no café in the Residence complex but you can find several cafés in the immediate surroundings.
Free buggy hire
For conservational reasons you may not take your child's pram or buggy into the exhibition rooms of the Residence Museum and the Treasury. Free buggies are available for the duration of your visit.
Dogs
No dogs or other animals may be taken into the Residence. We cannot offer supervision for animals brought along. Please keep dogs on an lead in the Court Garden.